Back to all posts
Posted on
WRPS Virtual Summer Camps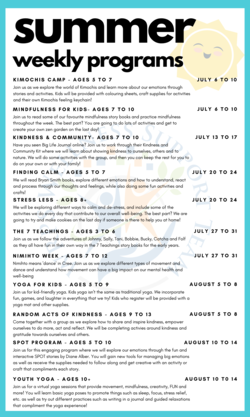 WRPS Wellness Support Team is excited to provide virtual summer camps to students in Wetaskiwin and surrounding areas. They are free of charge and come with a kit full of activities for each student to do live with their wellness coach during the week they chose. 

Participants will meet once a day for 20-40 minutes (depending on age) for a week with a Wellness Coach, who will facilitate fun activities and things for children and youth to do online. 
Please note: you will need a gmail or school division email address to be able to access Google Classroom to participate in the programs. 

To register please follow the link below: https://forms.gle/ME77edtLZiikVnD89

Registration is free of charge and will open Monday morning at 8:00AM, and spots are first come first serve. They have a maximum number of participants for each program, ranging from 12 to 25. Registration will also provide some additional details about participating.