Back to all posts
Posted on
School Council Meeting - March 2nd @ 6:30pm via Zoom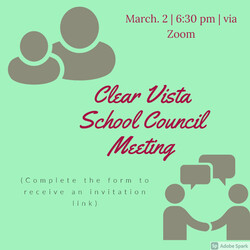 Our Next School Council Meeting with special guest WRPS Superintendent Peter Barron is: March 2 at 6:30 pm via Zoom Meeting
If you would like to attend, please complete the google form for the meeting invite.
Topics will include:
Council of School Councils Meeting, Bring Your Own Device, Field Trip Alternatives, Bylaw review, March Report Cards, Interviews, Emergency Planning, and Collaboration Days 
Our Fundraising Committee Meeting follows immediately after and topics for that will be around hot lunch options and fundraising options.
We hope to see you there!